It's Summertime!!! We are free to do anything we want….wait, anything our kids want, right? Our schedules might have a little less lunch packing and school-clothes washing, but we are still at the mercy of a schedule. Hopefully, it's a schedule of your choosing. We lean towards a summer that allows for the possibility of boredom. Boredom allows for the school year's overload detox. One of the first items on our summer agenda is a trip to the LIBRARY. My kids have always looked forward to this. They pick as many books as they want. We stock up, so they always have something to read at afternoon quiet time or at night in bed.
If you need to find good books (cause there is a lot of literary garbage too), ask your friends and do your research. Use goodreads.com or even Pinterest to research reading lists geared towards your child's age, interests, reading level, and genres.
I've put together some MOMMY reading recommendations and 1 Read-Aloud for the family. Get the audio version if you're going a road trip this summer!
Fiction: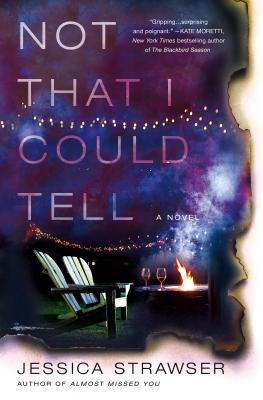 Not That I Could Tellby Jessica Strawser
This one is a good mystery thriller perfect for a summer read when you want to just binge-read on vacation or late at night! The story starts with a Women's wine night around the firepit, and the next morning one of the women has disappeared. It's a good "who's-to-blame" read!
No One Ever Askedby Katie Ganshert
This book delves into some great real-world issues within a Big, Little Liessetting (cleaner though). It's all about the #momlife issues that really matter and how quickly things can escalate because of the words we say (and don't say).
I picked up this book on a recommendation from author Jamie Ivey and her Facebook Summer Book Club. It's definitely worth discussing as it covers many hot topics – adoption, discrimination, and prejudice just to name a few.

The Masterpieceby Francine Rivers
For all of you who loved the age-old Redeeming Love, this is a contemporary story of living with mistakes, regret, and finding redemption, forgiveness, and finding renewed passion for life.
This is a great summer read for Francine Rivers' fans or anyone who has never read her redemptive tales. Also, it's a bit of a lengthy book for a die-hard summer reader.
Read-Aloud:
The Vanderbeekers of 141st St by Karina Yan Glaser
This book was a recommendation by a librarian friend. Sounds a good read for the bedtime routine or get it on Audible for a summer road trip!
Non-Fiction:
Reading Peopleby Anne Bogel
I picked this book up with the recommendations of a friend. It covers topics from looking at the personality types from all the popular personality tests. I love this stuff, so I was intrigued. And Anne is the popular blogger of Modern Mrs. Darcyand the podcast "What Should I Read Next?"
It's one of those fun books that you don't have to read front to back but can jump around to read about the parts you're most curious about.
If You Only Knew: My Unlikely, Unavoidable Story of Becoming Free by Jamie Ivey
I haven't read this book yet, but I am so intrigued by the author written description on the Goodreads site:
"What if you knew all the moments of my past that I am not proud of? What if you really knew me, the messy parts that I've hoped to forget and worked hard to conceal? For so long, my greatest fear was what you might think of me if you only knew the whole story.

It's exhausting, this guarding of our stories and struggles. Fear of being found out had caused me to hide—but I wasn't just covering my flaws, I was unintentionally blocking the beauty of God's grace. My journey to real freedom began when I quit running from my mess and started trusting Jesus to make something beautiful of it.

This book is that story. It's stepping out of shame and insecurity into gospel freedom. It's letting God turn our failures and frailties into testimonies of His faithfulness. I've discovered that when we quit hiding, God gets the glory and we are able to fully embrace not only our relationship with Him, but also with one another.
Transparency brings freedom, and in every moment, we'll find that God can absolutely be trusted."
Can't we all use a little more freedom in our lives?
I hope your summer is filled with a new freedom – whether it be in your reading, your cooking, or you ability to be active with your kids. Enjoy these hot but precious summer days!
*All links and book cover images from Goodreads.com